A huge fire engulfed a house at 263 Le Minh Nhut Street in Tan Thong Hoi Commune in Cu Chi District in Ho Chi Minh City on May 19, killing two people and injuring five others.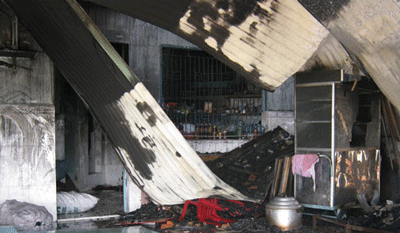 The scene after the fire in Cu Chi District
Local residents said that as soon as they saw the smoke come out of the house, they rushed with hammers and crowbars to break down the doors of the house, and successfully rescued five people.
Unfortunately they were unable to save two others who were at that time in the loft of the house, and the fire was so fierce that it became impossible to re-enter the building.
Fire fighters arrived as soon as they received news of the fire. The bodies of Nguyen Thanh Thang, 22, and Nguyen Hoang Vinh, 9, were recovered only after the fire was fully extinguished.
Among the five who suffered burn injuries are Nguyen Thanh Thao, 6; Nguyen Thanh Tien, 25; Nguyen Thi Di, 58; Nguyen Thao Vi, 3; and the house owner Nguyen Thi Lien, 34. They were all taken to the General Hospital in Cu Chi District.
Police will conduct a probe into the cause of the fire.
Another fire broke out in Tan An Town in the Mekong delta province of Long An on the same day, burning down eight houses but luckily there were no casualties.
According to witnesses, a woman living in a wooden house along the Tan Thanh Canal was careless while cooking. The fire destroyed all belongings in the house, and then spread to nearby houses because of the strong wind at that time.
Firefighters and local residents struggled for an hour to quell the blaze. Despite no report of human casualty, loss of property is estimated around VND1 billion (US$ 52,000)