A sudden fire Tuesday at a workshop operated by the Tan Viet Sinh Commercial Production Joint Stock Company (Travisco) in the southern province of Long An caused damage estimated at VND1.5 billion (US$93,700).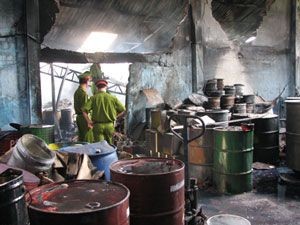 What remains of the shop after the fire
Mr. Phan Van Dai, the company's foreman, witnessed the incident, which occurred around 9:45p.m. He heard an explosion from the workshop, which contains barrels of chemicals. A few minutes later, the fire spread to the whole shop.

Four fire trucks arrived ten minutes after receiving an emergency call. It took them three hours to get the fire under control.

Because to the shop was filled with flammable chemicals, the fire persisted until 10 a.m the next day. One additional truck was sent to the site before the fire was put out completely.

The fire destroyed five tons of chemicals, as well as machines and appliances. It also caused a large part of the shop to collapse. No one was harmed in the incident.
Officials are investigating the cause of the fire.