Fire fighters continued to struggle against the raging fire in Hoang Lien Son National Park in Sa Pa District in the northern province of Lao Cai on Monday, but were facing a loosing battle.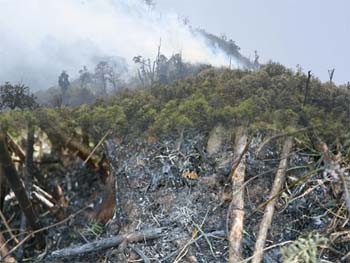 Forest fire in Hoang Lien Son National Park is still out of control, since March 2 (Photo: Thanh Nien)
The Forest Fire Prevention Committee in Sa Pa District said that sunny, dry and windy weather was impeding fire fighting operations.
The fire was spreading and ravaging at an altitude of 1,900-2,000 metres, making it impossible to pump water at that height or to even access the area.
According to the Hydro Meteorological Centre in Lao Cai Province, temperatures continued to move up to 28-30 degrees Celsius on Monday afternoon due to the hot low pressure zone.
Strong winds also helped in fueling the fire, which spread further into Ta Van Commune, where over 70-80 hectares of forest has already been destroyed.
Related article:
Forest fire spreads in Hoang Lien Son National Park