As the Tet (Lunar New Year) holiday approaches, smuggling of illegal firecrackers across the Lao Cai border with China has skyrocketed.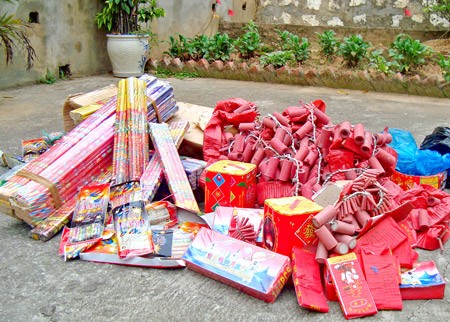 Several varieties of illegal firecrackers are seized regularly by police in the northern border city of Lang Son. The fireworks, manufactured in China, are destined for Hanoi and redistribution throughout the country. (Photo: SGGP)
Hanoi and northern provinces receive huge amounts of the fireworks in the days leading up to Tet via several routes leading from northern border areas.
In the past, smugglers usually traveled to Lang Son and Quang Ninh border areas to transport the firecrackers, but now, trade has increased markedly along the Lao Cai-Hanoi route.
Sai Gon Giai Phong reporters recently made a trip to Lao Cai City in the eponymous mountain province to investigate the issue.
From Lao Cai City, it costs just VND70,000-110,000 (US$4-6) to pass through into Ha Khau town, China.
Traders can also travel along the Red and Nam Thi rivers by boat to enter China without passing through a border gate for just VND50,000 ($3).
Ha Khau is a busy town and sells several other legal goods including toys and produce, which traders often use as decoys to smuggle illicit items across the border.
An elderly woman showed SGGP reporters where to buy firecrackers and how to transport them back to Vietnam. She said there is no limit to how many fireworks can be purchased in Ha Khau.
At a local shop, a Vietnamese woman offered to show reporters the firecrackers she was selling surreptitiously.
Asked why she was hiding the goods when it was legal to sell them in China, the woman said undercover authorities monitored the area and if Vietnamese traders were seen buying the goods, they would confiscate them at the border. 
Reporters then spoke to a young man named Thang who was transporting a large amount of fruit from Ha Khau to the Lao Cai border area. He showed reporters some firecracker shops and said he could transport the goods safely across the border.
By stuffing the fireworks into vegetable cartons, he could smuggle them without getting caught and would only charge a fee for his services once he arrived in Lao Cai.
Thang then took reporters to a shop selling other goods including sex toys and knives. Huong, the shop owner, also showed reporters several kinds of firecrackers priced at VND50,000-80,000. In Vietnam, meanwhile, prices can surge up to VND200,000.
 Problem continues despite arrests
Nguyen Hoai Nam, deputy head of Lao Cai Province's Market Management Sub-department, said from December 2009 to date, the department has uncovered numerous cases of illegal firecracker imports. Most of the goods were smuggled along isolated routes near the Lao Cai border and along the Red and Nam Thi rivers.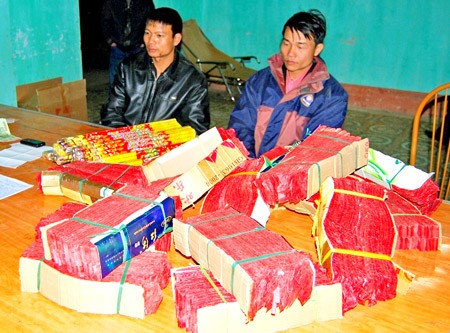 Illegal firecracker-smugglers are arrested near the northern border with China. (Photo: SGGP)
Lao Cai police have made arrests in more than 10 cases since December. Many others have been arrested in Lang Son, Quang Ninh, Bac Ninh, and Thanh Hoa provinces and Hanoi, said Nam.
Bui Ba Chinh, who works at a border post at the Lao Cai border gate, said several types of Chinese fireworks cross the border around this time of year. Smugglers can earn big profits and use all manner of tricks to transport the firecrackers into Vietnam, Chinh added.
After the firecrackers are transported to Hanoi, most are redistributed to countryside areas in Vietnam.
Hanoi police recently seized 200 kilograms of fireworks which had been stuffed into banana cartons to avoid detection. Some firecrackers were also intended for transport to Ho Chi Minh City.
To crack down on firecracker smuggling, customs officials say they need the cooperation of provincial governments, especially in raising people's awareness of the importance of complying with the law. The public needs to appreciate that buying or storing illicit fireworks is a violation of the law, said Chinh.