Thousands of inhabitants in Ly Son Island of Hoang Sa (Paracel in English) Archipelago in Saturday night gathered to view a fifteen- minute wonderful fireworks display that was, for the first time, launched on the outpost island in the New Year's Eve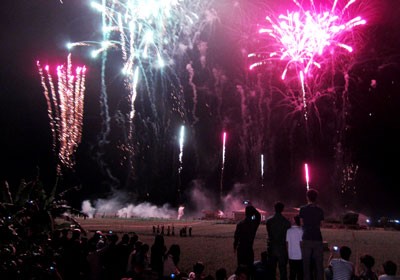 Ly Son's inhabitants enjoyed fireworks display in the sky of the Paracel Archipelago in the midnight of New Year's Eve.
Before the fireworks, they enjoyed cultural art performance by famous artists from the mainland at the exhibition of the Paracel Fleet.
Mr. Nguyen Ngoc Nguyen, President of the Ly Son District said that people were very excited because of the first time fireworks performance on New Year Eve.
Military command boards of Da Nang City and Quang Ngai Province said that they transported 1,000 fireworks several days before the New Year (Tet in Vietnamese) to launch the fireworks. 
Traditionally, large cities nationwide launch fireworks every year. This year the Government wanted to make Tet holidays of Ly Son's inhabitants more meaningful with excellent art and fireworks display.
Ly Son is one island of the Paracel Archipelago in the East Sea that belongs to Vietnam but China conquered some of its islands after a battle with the Republic of South Vietnam's troops in 1974.