Fifteen-minute-long fireworks shows are expected to take place in Ha Noi, Hai Phong, HCM City and Da Nang at 9pm tonight to celebrate the 70th anniversary of Independence Day.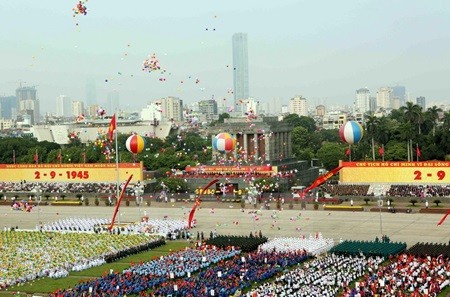 Some 35,000 people participate in the official parade at Ba Đinh Square in Hà Nội from 7am on September 2.—VNA Photo
Fireworks will light up Ha Noi's skies above Hoan Kiem (sword) Lake in Hoan Kiem District, Thong Nhat Park in Hai Ba Trung District and My Dinh National Stadium in Nam Tu Liem District, besides Nguyen Hoang Ton Garden (overlooking West Lake) in Tay Ho District and Van Quan Lake in Ha Dong District.
The fireworks display in HCM City will be held at the Thu Thiem tunnel spanning the River Sai Gon, as well as Dam Sen Park.
Meanwhile, people can watch fireworks along the River Han in Da Nang and at the Fine Arts Exhibition Centre and at An Bien Lake in Hai Phong.
Da Nang and HCM City will have clear skies tonight. However, light rain was expected in the other two cities, the National Centre for Hydro-Meteorological Forecasting said.