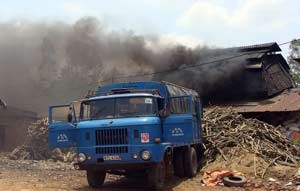 Fumes released at Tri Thuc brick kiln in District 9. (Photo: SGGP)

The Ho Chi Minh City Environmental Police Department (PC36) and police in District 9 caught Tan Phuong Dong Company selling two tons of untreated rubber waste to Tri Thuc brick kiln on April 20.
The seller said Tri Thuc used the waste to fire its kilns.
The police inspected Tan Phuong Dong's warehouse and found 60 tons of untreated waste not stored properly. This included imitation leather, foam rubber with glue, high-density plastic, and plastic bottles tainted by chemicals.
They said the company is licensed to collect industrial and other dangerous wastes but lacks the infrastructure to classify and storing them.
PC36 has sealed the company's warehouse to carry out investigation.
It said the wastes release fumes containing dioxin that could seriously affect people's health.