At a meeting for 'Traffic Safety and Order 2012' in Hanoi on Monday, new Transport Minister Dinh La Thang expressed his determination to  see a year-on-year decline of 5-10 percent in the number of road accidents.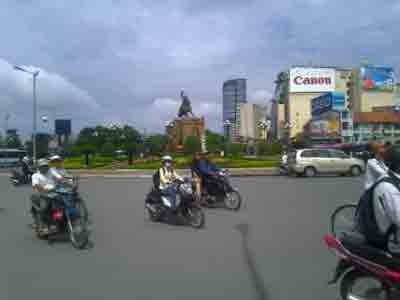 Wearing helmets is mandatory on motorbikes ( Photo: Phuong Uyen)
Deputy Prime Minister Nguyen Xuan Phuc said that the meeting has revealed that the problem of traffic accidents was a matter of serious concern for the government and one that needs to be tackled immediately.
Minister Thang said that in the first ten months of the year, there   have been more than 11,000 traffic accidents in the country, killing 9,265 people and injuring over 8,000. He pointed out that the cause of most of these accidents was because of traffic violations by motorcyclists.
Moreover, local governments are not fully in control of the traffic situation on roads and of the pedestrian sidewalks.
According to the Transport Minister, heads of transport agencies must be held accountable for any irregularities and they must go about implementing the harshest tactics to fight violations of vehicle registrations by confiscating vehicles and increasing penalty fines.
The minister ordered local authorities to implement measures to reduce the number of road accidents and human casualty tolls, by   maintaining stricter traffic order at all times.
Hanoi and Ho Chi Minh City have proposed to the government to issue instructions to relocate educational institutes to suburban districts and not allow hospitals to expand their capacity and premises.
Deputy PM Phuc agreed with the proposal put forward by Lieutenant   General Nguyen Duc Nhanh, Director of the Hanoi Police Department, to let traffic cops keep fines collected from violators. Each year, police collect around VND200 billion (US$9,520,000) from traffic fines.
A team from the Ministry of Public Security led by Lieutenant General Dang Van Hieu worked with Nguyen Van Dua, standing deputy secretary of the Party Committee in HCMC on traffic law, order and safety.
The team was apprised of a decline in the number of traffic accidents and casualties (about 5-15 percent year-on-year) and the problems of traffic gridlocks.
At the meeting, HCMC leaders petitioned the government to provide capital for construction of better infrastructure and to raise penalty levels on traffic violations. HCMC also asked the government to consider traffic violators as criminals.
Lieutenant General Dang Van Hieu said the city should tighten management, purchase more equipment for traffic cops and increase supervision to tackle wrongdoings amongst its police force.