A conference that opened April 28 in the capital brought together Government and business representatives in order to address the difficulties that enterprises currently face.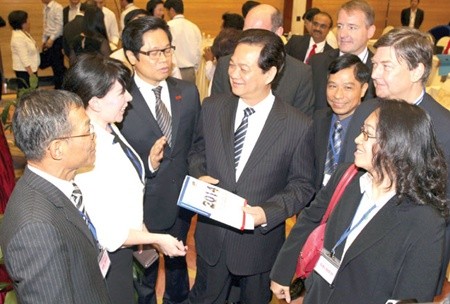 Prime Minister Nguyen Tan Dung (second right) talks with business representatives during a conference on April 28 (Photo: VNS)
At the conference, Prime Minister Nguyen Tan Dung said 97-98 per cent of businesses were small and medium-sized ones, with scarce capital or employees. Consequently, their managerial capacity remained limited and they lacked a competitive edge.
The PM told cities, provinces and ministries to work with the business community and associations to improve the investment and business environment. He said the Government was focusing on improving the market-oriented economy and related administrative reforms, especially those minimising cumbersome administrative procedures.
Dung also asked banks to continue providing businesses with easy access to bank loans. He particularly asked the State Bank governor to take care of the capital market and foster close links between banks and businesses.
During the 2011-2013 period, 224,000 enterprises were established. In the first quarter this year, more than 18,000 businesses were registered with total capital of VND98 trillion (US$4.6 billion), up 17 per cent in number and 23 per cent in value from the same period last year.
However, difficulties forced nearly 17,000 others to dissolve or temporarily stop operations in the period, a year-on-year increase of 9.6 per cent.
The private sector contributes the most to the country's GDP. From 2009 to 2012, it contributed 48-49 per cent, followed by the public sector (over 30 per cent) and the FDI sector (17-18 per cent).
The Viet Nam Chamber of Commerce and Industry (VCCI) collected more than 300 recommendations from the business community and reported them to the Prime Minister during the conference.
VCCI Chairman Vu Tien Loc said that the recommendations mainly related to the legal obligations faced by businesses, which he said must be reformed in order to ensure business freedom and equal competitiveness.
Enterprise representatives suggested the Government continue creating favourable conditions for them to operate, carry out investment activities and gain access to credit loans and advanced technologies.
They also asked the Government to delay a planned minimum wage increase for at least two years and to simplify administrative procedures, especially in business registration, customs and construction work.
According to the VCCI leader, there are now more than 500,000 enterprises operating in Viet Nam. However, Loc said a new growth model was vital for the business community to develop further.
World Bank Country Director for Viet Nam Victoria Kwakwa said that the private sector played an important role in the renovation process and made key contributions to the country's successes. While acknowledging past efforts to reach economic growth targets, she said the Government needed to consider the role of the private sector in economic development.
To Hoai Nam, vice chairman of the Viet Nam Association of Small and Medium Enterprises, attributed the disadvantageous position of the private sector to policy confusion as the country shifted to a new economic development model. In addition, the private sector suffered from a lack of scale and managerial skills and policies for handling difficulties were lacking, Nam said.