Nguyen Thi Hoa, 81, who lived in the Northern Province of Ninh Binh, became the first cornea donor in Viet Nam.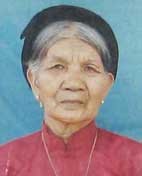 Octogenarian Nguyen Thi Hoa
Prior to her death, Miss Hoa willed her corneas to the National Ophthalmology Hospital's eye bank.
The corneas have brought light to two blind women, Nguyen Thi Khuy, 40, in the Central Highland Province of Dak Lak and Le Thi Tuyet, 23, in the Northern Province of Thanh Hoa.

Representatives of the National Ophthalmology Hospital, ORBIS International, arrived yesterday in Ninh Binh Province's Kim Son District to give Miss Hoa's relatives a certificate of merit.

Speaking at the ceremony, Hoang Thi Minh Chau, Deputy Director of the hospital, said that they are only able to carry out some 100 cornea grafts per year, adding that more than 500 patients are currently waiting for corneas.
Ms. Chau(L) gives a certificate of merit to the donor's son
There are currently more than 300, 000 people in Viet Nam suffering from visual impairment due to cornea problems and the figure is increasing by 15,000 people per year.

The eye bank, however, must rely solely on donations from ORBIS International for corneas.

Nguyen Huu Thinh, ORBIS International's Director, hopes that Ms. Hoa's charitable act will be a model for people to follow in the future.

Doan Van Thoai, Deputy Director of the Province of Ninh Binh's Department of Health, announced that his department, in conjunction with the National Eye Hospital, will hold a free eye examination clinic for Con Thoi commune residents.