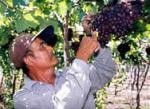 Ba Moi and his Black Queen grapes
The farmer Ba Moi (Nguyen Van Moi) is now very popular in his hometown (Phuoc Thuan – Ninh Phuoc). He is the owner of "Ba Moi clean grape" trademark which will be sent to the trade fair "Safety for public health" (Best Food) held in Ho Chi Minh City in late December 2005.
Achievement

 His road to success began when the green grape seeds NH01-48 of "Nha Ho" Cotton Tree Research Center were introduced to the farmers in Ninh Thuan Province.

 He immediately planted them in his fields in an area of 1,000m2 in Phuoc Thuan – Ninh Thuan. Fortunately, the scientists of the Agricultural Technological Transfer Center (under the Southern Institute of Agricultural Science and Technology) allowed him to apply biological products to grape farming without chemical remnants after harvest. That was the first time he had learnt how to plant clean grapes.

He was determined to strictly follow the cultivation techniques, using anti-disease biological products such as Pitazin, Aztron and Mastercoops and micro-organic fertilizers such as EM, OLICIBI instead of chemical fertilizers.

 Finally, he became the first farmer to successfully plant clean grapes. One kilo of the clean grapes NH01-48 costs VND10-12,000, which is twice the price of red grapes. The first crop's yield was 0.7 ton, the second 1.2 tons and the third 1.5 tons. It is estimated that he gets more than VND ten million each crop.

The analysis by the Sub-Institute of Post-Harvest Technology, the Agricultural Technological Progress Transfer Center, Ninh Thuan Department of Environment and Science-Technology certifies that his safe clean grapes contain 18.45% sugar and are pesticide-remnant negative and disinfected with micro-organism.

He sold the grapes in Ho Chi Minh City for over VND20,000 a kilogram, much lower than that of the grapes from Thailand. The trademark "Ba Moi" has been patented by the National Office of Intellectual Property of Vietnam (under Ministry of Science and Technology).
He now continues to plant high-quality grapes such as Red Star, NH01-48 and Black Queen in an expanded area up to four hectares. He also invests more than half a VND billion in grape-extract equipments after harvest, grape-wine manufacturing workshops and material areas, which are expected to come into operation in 2006.

Ba Moi really wants that other farmers should soon break through their own ways towards the production of safe grapes. He also wishes new kinds of grapes as well as manufacturing processes of safe and high-quality grapes to be introduced for the wealthy life of grape-farmers.