A host of new fruit varieties and specialties nationwide will be introduced for the first time at the Vietnam Fruit Festival in the Mekong Delta province of Tien Giang on April 19-24.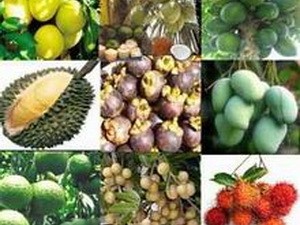 A host of Vietnamese fruits will be showcased at the Vietnam Fruit Festival in the Mekong Delta province of Tien Giang on April 19-24

Tran The Ngoc, chairman of the province, said Vietnam's first-ever national fruit festival, with several cultural and trade activities, is an opportunity to promote the country's capacity to supply fruit to foreign markets.
 
It is also a chance to honor local farmers, scientists and enterprises who have contributed to creating quality fruit varieties while elevating the status of Vietnamese fruit in the world.
 
Farmers, scientists and entrepreneurs will have the chance to share their experiences in producing, preserving and processing fruit products. Moreover, the festival will serve as a networking opportunity for fruit growers and enterprises to seek out new business relationships, Mr. Ngoc added.
 
It is also an occasion to review both strengths and shortcomings of the Vietnamese fruit market and address ways to improve local produce. Farmers, meanwhile, will be encouraged to apply modern techniques to produce high-quality fruit and thus improve Vietnam's competitiveness with other countries.
 
Dr. Nguyen Minh Chau, head of the Southern Fruit Research Institute, said localities and enterprises should take advantage of the festival to introduce their unique fruits to local and foreign customers to expand their markets.
 
More than 700 stalls at the event will showcase hundreds of fruit varieties from 24 provinces, including high-quality fruits like Hoa Loc mangoes, green-peel grapefruits, Lo Ren star apples and dragon fruits.
 
The festival will also feature agriculture and bonsai exhibitions, food fairs, floating market festivities, and fireworks displays.
 
In addition, there will be a series of seminars on developing trademarks for Vietnamese fruits on the world market; measures to create and strengthen links between scientists, fruit growers, fruit processors and local authorities to improve the value of Vietnamese fruit; as well as discussions on models for enhancing ecological tourism.
Several national records are also expected to be set during the festival, such as the largest map of Vietnam to be made entirely of fruit, and the longest painting of a dragon created with graffiti art.
The Vietnam Fruit Festival will be held in the center of My Tho City, Vinh Kim market (Chau Thanh District) and Cai Be market (Cai Be District).
                                 Vietnam Fruit Festival program
 
April 19: 
Morning
-   Opening of exhibitions and fairs
-   Setting of national records for largest map of Vietnam made entirely of fruit, and the longest dragon painting created with graffiti art.
-   Safe fruit competition
-   Tree-assembling competition
-   Food festivities
20 pm
-   Fruit Festival officially opens
-   Art performances
-   Street and fireworks festivities

April 20:
Morning:
-   Seminar: "Vietnamese fruits – opportunities and challenges in international economic integration"
-   Painting competition for children
Afternoon:
-  Football match for farmers
Evening:
-  Cai Be floating market festivities
-  Art performances

April 21
Morning
-   Seminar: "Orchards with ecological tourism"
Evening
-   Fruit trade festival in Hoa Khanh
-  Vietnamese goods fair
-  Art performances

April 22
Morning
-  Seminar on creating links among scientists, fruit growers, fruit processors and local authorities to improve the value of Vietnamese fruit
-  Cooking competition
Evening
-  Art performances
-  Student singing contest

April 23
Evening
-  Folk song and dance performances
-  Masquerade carnival

April 24
Afternoon
-  Final round of farmers' football match
Evening
-  Closing ceremonies
-  Honoring creative farmers
-  Awarding of Green Address Certificates
-  Exchanges with sponsors