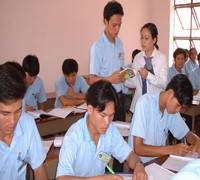 Workers are taking a test

For the first time in Viet Nam, a Korean language test has been held for Vietnamese workers in Ho Chi Minh City, Ha Noi and Vinh City. Seven thousand Vietnamese workers took the test on April 9.

If workers pass the test, they will receive a certificate of Basic Korean with two-year validity and be guided into procedures on job application in the Republic of Korea (RoK) according to the new regulations on employment license.
The test was jointly organized by the Committee for Korean Language Test of the Korean Language Association and the Department for Overseas Labor Administration and Management.
The second Korean language test is planned on April 23 with over 2,000 candidates.
According to Department for Overseas Labor Administration and Management, Viet Nam has so far sent 15,000 job application files to RoK, of which 14,600 files were accepted by Korean employers, and over 12,000 workers have been permitted to work officially in ROK.
Vietnamese workers are highly appreciated and employed most (90%) compared with those of the other five labor exporting countries to the RoK.