The first ever Overseas Vietnamese Conference opened in Hanoi today aimed at strengthening ties between Vietnamese living abroad and their home country, according to the State Committee for Overseas Vietnamese under the Ministry of Foreign Affairs.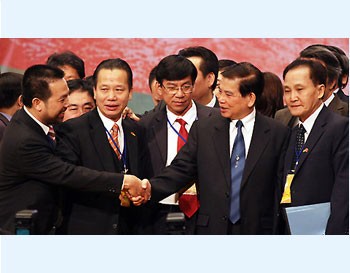 President Nguyen Minh Triet meets with overseas Vietnamese intellectuals and businessmen at the conference in Hanoi, Nov. 21. 2009. (Photo: VietNamNet)
The conference, themed "For a community of solidarity and strength, contributing to the cause of building the country," attracted 1,500 delegates, including around 850 overseas Vietnamese intellectuals, businessmen, artists, religious and social activists, and students, who represent Vietnamese communities in 101 countries and territories worldwide.
After the opening ceremony, four seminars were held themed around building a strong community of successful overseas Vietnamese, retaining national culture and tradition, intellectuals' and experts' contribution to the home country's development, and overseas Vietnamese entrepreneurs' contribution to building the country.
Tran Trong Toan, the Committee's standing deputy head, said the conference offers a forum to exchange views, collect opinions, mobilize resources of overseas Vietnamese communities to contribute to the country's industrialization and modernization, and promote the communities' brainpower to contribute to the preparations of the XI Party Congress.
At the conference, local and overseas collectives and individuals who have made great achievements in mobilizing overseas Vietnamese to contribute to the cause of national liberation and construction were also praised.
The conference is among the main activities under a Government action program on expatriate Vietnamese affairs and the Prime Minister's Instruction 19 on overseas Vietnamese activities.

Instruction 19 calls on provinces and ministries to take responsibility for overseas Vietnamese affairs and requires them to protect the interests of overseas Vietnamese enshrined in Vietnamese laws, international conventions, and precedents.
This year, overseas Vietnamese sent remittances of US$6.8 billion to relatives and businesses in Vietnam, a decline of $400 million over 2008.
The Committee said overseas Vietnamese have invested in about 3,000 projects in Vietnam with a total investment capital of $2 billion.