The first pair of landmarks 605 was inaugurated on Sept. 5 at the Lao Bao-Densavane international border gate in central Quang Tri province and Laos ' Savanakhet province on the occasion of the 46th anniversary of the establishment of the Viet Nam-Laos diplomatic ties.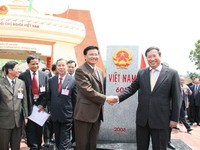 The inauguration ceremony held on September 5
The pair of landmarks is the first of its kind built under the project on increasing and embellishing Viet Nam-Laos national landmarks.
Addressing the inauguration ceremony, Deputy Prime Minister and Foreign Minister Pham Gia Khiem affirmed the significance of the inauguration of the first pair of landmarks on the Viet Nam-Laos border and the East-West economic corridor in Lao Bao and Densavane economic areas.
The event reflected the determination of the two countries' leaders and people to build the Viet Nam-Laos borderline into the border of peace, friendship, cooperation, stability and sustainable development, the Deputy PM said.
Khiem also proposed the National Border Committee, the Viet Nam-Laos Joint Committee for Landmark Planting and the Viet Nam and Lao Steering Committees for local landmark planting to continue working closely to fulfill the strategic and historical project for effective management and protection of the borderline.
For his part, Lao Deputy PM and FM Thongloun Sisoulith said: "The joint coordination in a project to add and upgrade border landmarks between Viet Nam and Laos is a historical event which opens a new era in the two countries' relationship."
The completion of the first pair of border landmarks under the project will open a new opportunity for comprehensive cooperation between the two Parties, States and peoples, said the Lao Deputy PM.