Private airline VietJetAir on Sunday launched its first international flight which connects Ho Chi Minh City and Bangkok of Thailand, marking the first private airline to be allowed to fly aboard.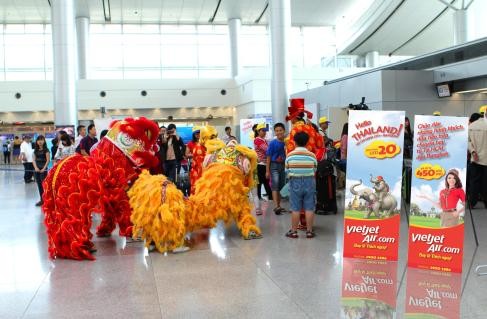 The inauguration celebration of Ho Chi Minh City- Bangkok flight conducted by VietJetAir was hold at the Tan Son Nhat Airport on February 10, 2013. (Photo: Courtesy of the VietJetAir)
Passengers flew with Airbus A320 bringing Vietnam's tourism symbol and all them were offered lucky envelops with new bills inside.
Passengers also enjoyed New Year celebration carried out by stewardesses and beauties in Thailand traditional costumes with famous dance Gangnam Style of Korean Artist Psy.
The Ho Chi Minh City-Bangkok fight departing from the International Airport Tan Son Nhat at 11: 45 AM arrives at Bangkok's Suvarnabhumi Airport at 13:15 PM and the return flight departs at 14:30 PM everyday, said an airline representative.
The flight route is the first international and the tenth flight route of the airline.
VietJetAir is the Vietnam's second airline lauching flights to Bangkok after the national Vietnam Airlines.
Vietnam has now six airlines including leading flag Vietnam Airlines and five private and joint-stock flying operators among that Indochina temporary closed because of loss and debt.
VietJetAir was set up in 2007 and launched the first flight on December 25th 2011. It currently operates over 300 flights every week.