The 12th National Assembly (NA) will convene for their first session in the capital city of Ha Noi on July 19. In preparation for the event, the Viet Nam Father Front Central Committee has collected proposals from the nation's voting public.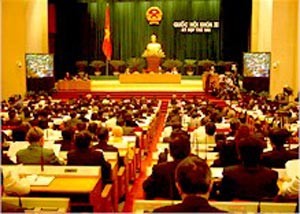 A meeting of the National Assembly

The voters have asked NA deputies to be more aware of the peoples' needs and interests. Each deputy must live and work in accordance with the Government's laws and policies. They must be individuals with a strong will to fight against corruption and waste.

The National Assembly must improve its law-making procedures and any future Government decisions and policies must represent the people's needs and wishes, whilst remaining suited to the country's process of innovation and international integration.

Voters showed their expectation in the Government's ability to increase effectiveness in fighting against corruption and waste, managing real estate, construction work, and renovating the country's administration and judicial systems.

The voting public also expect that those people voted into new positions sanctioned by the National Assembly will undergo a vote of confidence every one or two years.