Two passenger ships and five fishing boats sank during typhoon Toraji in the Co To District of the northern province of Quang Ninh, according to initial reports from the provincial authority.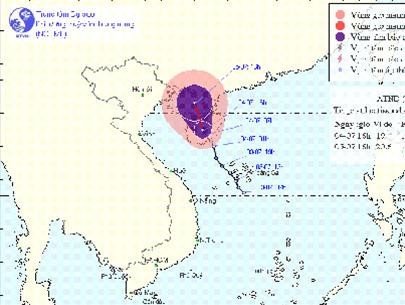 The map of the typhoon-hit areas
The storm also affected a 1,800 KVA transformer station, which was stuck by lightning in Cam Pha town yesterday.
Local authorities alongside defense, border guard and rescue task forces collaborated to save those fishermen whose boats had sunk; no deaths have been reported.
The Central Hydro-Meteorological Center said that yesterday the typhoon was centered on 21.8o N, 107.5o E on the coastal northern province of Quang Ninh.
Typhoon Toraji, meaning "a precious flower" in Korean, began as a tropical depression before hitting Quang Ninh province with heavy rains and gusts of up to 88kph.
Strong winds and torrential rains also hit Hai Phong City's Bach Long Vy Island and Mong Cai in Quang Ninh province.
As predicted, the typhoon will continue to travel northwesterly at a speed of 15kph, heading for China's Guanxi Province. On its path so far, the typhoon has caused rough seas and high winds in the Gulf of Tonkin, endangering many fishing vessels.
The storm affected coastal provinces and cities stretching from Quang Ninh to Hai Phong province.  Residents in affected areas should remain vigilant against possible landslides, cyclones, and high tidal waves.
Quang Ninh's Central Steering Committee for Flood Control and Prevention yesterday issued an emergency announcement instructing state agencies and local authorities from the People's Committee to evacuate 30 households in the landslide-prone areas near the Bai Chay Bridge.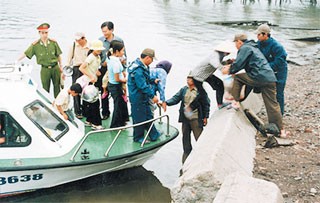 Rescue task forces evacuate people from landslide-prone areas to safer areas
The Ha Long People's Committee have reported more than 100 people from 30 households have been moved to safety after the heavy rains.
The authorities are providing each household with VND200,000 to help them move their property out of the danger zone.
The landslides have become more serious, concrete stones and rocks have begun to fall onto roads, severely hampering traffic and causing a great threat to the public's safety.
The authorities are now prohibiting people from passing through such dangerous areas. Responsible people are working around the clock to warn others of the possible danger.
The Central Steering Committee highlighted the need to guarantee the safety of miners in Quang Ninh; orders have been given to reinforce river dykes and embankments.
Around 300 tourist boats have reportedly anchored at safety docks in tourism areas in Ha Long Bay. All activities were halted whilst tourists were forced to return to shore.
Quang Ngai province border guards said that they have made contact with three missing fishing vessels, including the ship QNg-5842-TS that broke down on 16. 4o N, 111.05o E.