Mai Kieu Lien, Chairwoman and CEO of Vietnam Dairy Products Joint Stock Company (Vinamilk), who is one of the three outstanding Asian women CEOs in the fields of regional growth, science, technology and innovation and culture, was honored in the 20th Nikkei Asia Prize in Tokyo city, Japan on May 20.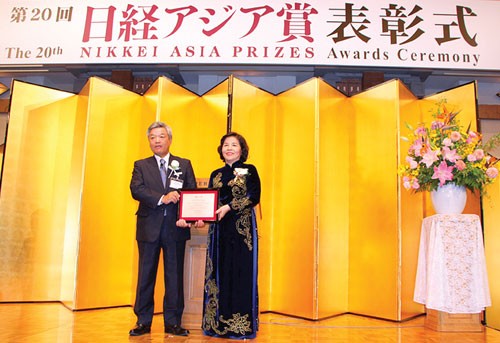 Mai Kieu Lien, Chairwoman and CEO of Vinamilk receives the 20th Nikkei Asia Prize.(Photo: SGGP)
The annual Nikkei Asia prize aims to honor outstanding achievements of individuals and organizations in the Asian region except Japan in improving living quality of people and establishing sustainable development in the Asian region.
Speaking at the ceremony, Ms.Mai Kieu Lien shared "The result was a big surprise for me to receive the 20th Nikkei Asia Prize, however it is a great pride for me and over 5, 000 Vinamilk's staffs, officials, who have tried their best to establish sustainable development in Vietnam in particular and in the Asian region in general".

As soon as receiving the award, Mai Kieu Lien decided to donate three million yen prize money to children in Nepal through the United Nations Children's Fund (UNICEF) in Japan.
On the same day, Japanese Prime Minister Shinzo Abe held a party to congratulate individuals and organizations, receiving the 20th Nikkei Asia Prize.

The Nikkei Asia Prize is an annual award which was launched in 1996 by Nikkei Group, one of the largest media organizations in Japan.