The Vietnam National Oil and Gas Group (PetroVietnam) says it will inaugurate the first locally manufactured jack-up rig on September 9 in Ba Ria-Vung Tau Province, where the mobile platform was built.
A jack-up rig is a type of mobile platform that is able to stand still on the sea floor, resting on a number of supporting legs.
PV Shipyard in the southern province has been building the platform for 26 months. The PetroVietnam member said Wednesday that it would start the test-run of putting the 90-meter rig into the sea on August 31 before delivering it to PetroVietnam.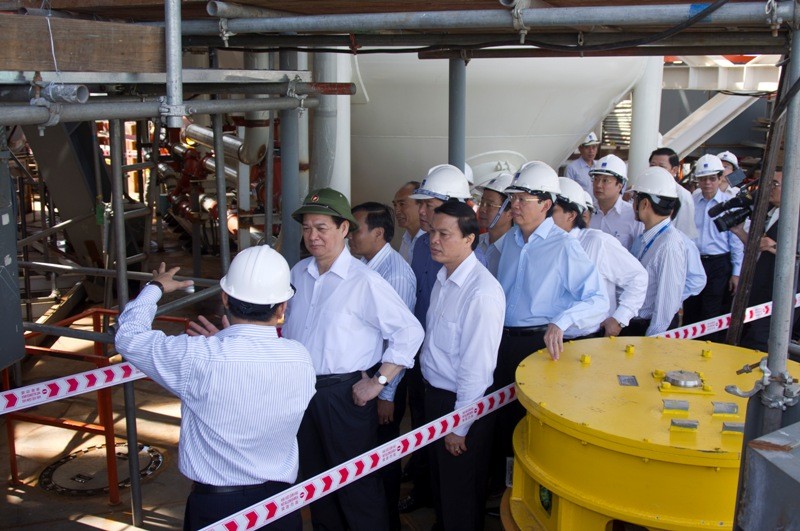 Vietnamese Prime Minister Nguyen Tan Dung (2nd, L) examines the building of the first made-in-Vietnam rig at PV Shipyard in Ba Ria-Vung Tau Province on July 15, 2011 (Photo: Courtesy of PV Shipyard)
The first made-in-Vietnam platform, 12,000 tons in weight, would be put onto a barge from the construction site and tugged to the test position four kilometers off the coast. Then it would be tugged back to the coast.
The rig includes blocks, cantilevers, living quarters, the pipe system and a helicopter deck.
Building rigs at home is part of Vietnam policy on shifting core mechanical engineering in oil and gas to Vietnamese companies.
Prime Minister Nguyen Tan Dung, during his working trip to Ba Ria-Vung Tau Province in July, came to visit PV Shipyard and examined the building of the first locally made rig.