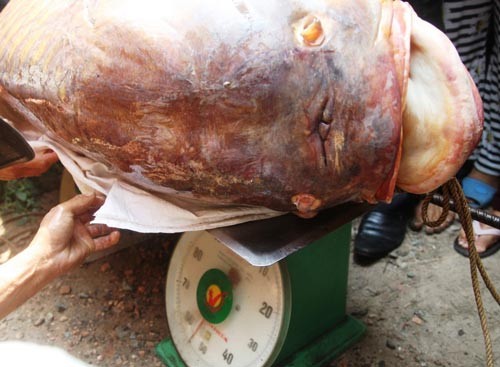 The giant barp fish caught in Dong Nai River weighs 130 kg (Photo: SGGP)
Tran Minh Dung, a 35 year old fisherman caught a giant barp fish on October 16 in a creek of Dong Nai River near Rach Muong Bridge in Ho Chi Minh City's District 9.

Dung said he net in the evening and early morning of October 16, he saw a very giant fish in the net. The fish struggled much against the hook in order to escape the net resulting in tearing the net but its efforts were unrewarded.
Dung asked some fishermen fellows to help him drag the fish to shore.
The pinkish white giant barp measured 1.5 meters in length and weighed 130 kilograms.
Many fish traders have offered for the giant fish, at last Dung sold the fish at VND192 million (US$ 9,056)