Hanoi-based Human Resource Development Corporation (LOD) on January 1 sent Nguyen Tuong dead body to his homeland in the central province Ha Tinh to bury.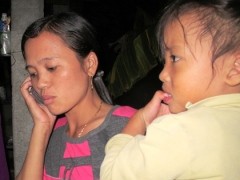 Lan, the wife of crewman Tran Dinh Khanh in Ky Anh District in Ha Tinh Province, answer her husband's phone call from New Zealand. (Photo: Tuoi Tre)
Tuong, 25, resided in Ky Khang commune, Ky Anh District, Ha Tinh Province, worked on the Korean trawler In Sung No.1, which was sunk off Antarctica on December 13.
On the same day, representatives from the LOD granted more than US$16,000 to Tuong's family.
Earlier, four Vietnamese fishermen rescued after the vessel sank came to their hometown.
Tran Dinh Khanh, Nguyen Mau Hien, Nguyen Van Nam and Le Quang Ruc from Ha Tinh Province have received medical aid and are in good condition.
In Sung No.1 was among the 17 ships operated by the In Sung Corporation in Korea. Apart from the Korean staffs who were employed directly by In Sung, foreign workers were also hired through labor exporting companies from several countries.
It is not known at this stage what caused the vessel to sink. In Sung's spokesman said the ship could have struck an iceberg or have been hit by a giant wave.