Nguyen Kieu from An Vinh Commune in Ly Son District in the central province of Quang Ngai caught a huge 'nang' fish weighing more than two tons, while out fishing on his boat near Ly Son Island Tuesday morning.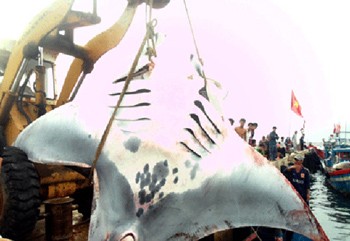 The biggest fish ever caught in Quang Ngai Province
Fishermen claimed it was the biggest and heaviest fish ever caught in the region. It took them nearly three hours to bring in the fish on shore, having had to hire a crane for the purpose.