After two days adrift at sea because of engine failure, 47 fishermen and their fishing boat was towed to Nha Trang Port in the central province of Khanh Hoa on Tuesday.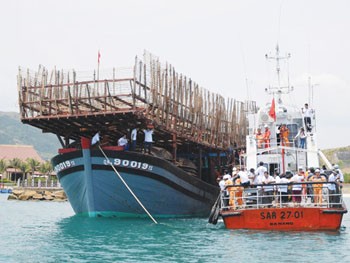 The fishing boat (L) being towed to Nha Trang Port (Photo: Thanh Nien)
Pham Be, the 42-year-old boat owner from Quang Nam Province, said that they had been in the Truong Sa (Spratly) Islands area since February 15 and had caught eight tonnes of cuttlefish so far.
Be had planned to continue fishing cuttlefish until the end of May. However, the boat faced a mechanical failure on March 17 and they were left to drift at sea.
Soon after being informed about the status of the boat at 4.40pm on March 19, the Search and Rescue Centre in Zone 4 of Nha Trang City dispatched a vessel to rescue the fishing boat and those on board.
By 11.25pm on the same day, the vessel reached the fishing boat, 74 sea miles from the Nha Trang City and towed it ashore.