Fishing boat QNg 90046 with 11 fishermen on board, from the central province of Quang Ngai was towed ashore yesterday afternoon, April 4, after eight days adrift at sea due to engine failure.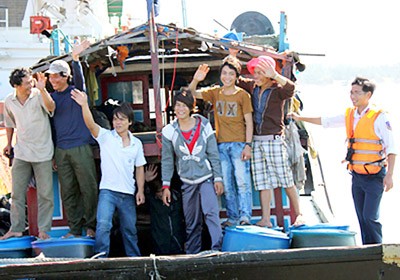 Relatives were glad to see the safe return of 11 fishermen in Quang Ngai Province (Photo: SGGP)
After an extensive search operation, Vessel CSB 9002 of the Vietnamese Marine Police Zone 2 finally towed the fishing boat to Ky Ha Port in the neighbouring province of Quang Nam.
Captain Pham Van Mang from Binh Son District of Quang Ngai Province said that his boat had sailed out to sea on March 22. The boat had suffered engine failure on March 26 and went adrift at sea.
Another fishing boat belonging to Pham Van Quang, also from Quang Ngai Province, was able to reach Mang's boat and tried to help, but Quang's boat too broke down and went adrift as well.
Quang's boat was later rescued by Chinese forces who helped repair the engine and it headed home.
Meanwhile, Mang's boat was battered by Storm 'Phakhar' and lost contact with the mainland, night of March 30.
By April 2, vessel CSB 9002 was able to reach and rescue the fishing boat with all 11 fishermen on board and tow it ashore.