Two fishing boats were struck by two boats of unknown origin while fishing recently, one incident occurred on June 23 and one on July 16, said the border post of Gianh Port at Quang Trach, central province of Quang Binh July 19.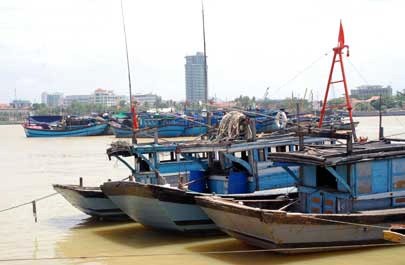 Fishing boats stay in port in the central Vietnam
In the first incident, the crash caused severe damage to a boat, owned by Nguyen Xuan Hai, while fishing at latitude 17º, 47 minutes north, longitude 107º, 54 minutes east.
In the second incident, a fishing boat, owned by Nguyen Van Hai, was hit and sunk in fishing grounds at latitude 18° north, longitude 108º east.
The boat, with six fishermen on board, floated listlessly for five hours until they were rescued by two fishing boats.
Many fishermen at Quang Phuc Commune, Quang Binh Province, have recently said many boats have been struck by boats of unknown origin, causing serious damage to boats.
Previously, hundreds of fishing boats in central Vietnam from Quang Ngai to Binh Dinh province must to stay at home for the season (March- July), as their fishing grounds had been put off limits.
The Vietnam Fisheries Association has asked local governments to group fishermen together so they can help each other in catching.
During catching, fishermen need to keep in contact with aquatic resource development and protection bureaus, border guard stations, and naval and sea police forces to receive timely assistance.

Relevant agencies have said they are maintaining their protection of Vietnamese ships in Vietnamese waters so fishermen can rest easy.