The Vietnam General Confederation of Labor and the Quang Ngai Standing Party Committee established a Fishing Union of An Hai Commune in Ly Son Island, in the central province of Quang Ngai on September 15.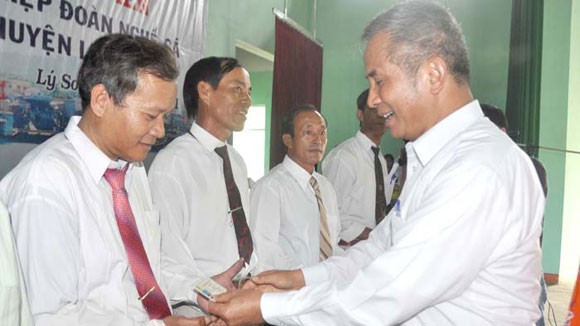 Vietnam General Confederation of Labor chairman Dang Ngoc Tung (R) presents membership cards to Ly Son fishermen (Photo: An Ninh Thu Do newspaper)
The Union will comprise of 428 fishermen working on 36 fishing ships. Its aim is to help in creating a safer and more conducive working environment for fishermen while playing an important role in protecting Vietnam's territorial waters.
It will represent ship owners in matters of disputes on fishing, inform on international sea laws, provide poor households with capital and offer logistic services when needed.
There are more than 5,600 fishing ships in Quang Ngai Province at the moment. 400 of these are from Ly Son District and around 300 ships with 2,000 fishermen operate regularly in the Paracel Islands and Spratly Islands.
During the past 5 years, there have been more than 70 attacks on local fishing vessels by unidentified persons, resulting in severe damage to property as well as deaths, not to mention kidnapping cases for ransom.
Many households have suffered severe losses and often faced with serious predicaments.
On the occasion of launch of the union, many benefactors donated more than VND3.8 billion (approx. US$184,500) to poor fishermen. Vietnam General Confederation of Labor officially introduced the Charity Channel No.1400 called 'Net from the Heart' to raise money to buy necessary equipment for unfortunate fishermen that had faced attacks.
Ly Son Island is one of the four areas chosen by the Vietnam General Confederation of Labor to establish a fishing union in a pilot project.