A container truck slammed into a number of curious onlookers gathered along the road to see rescue operations of another truck that had earlier plunged into a precipice in the northern mountain province of Cao Bang.
The accident occurred at 2.30pm on December 9 at Keo Put Pass on National Highway 3 that runs through Quoc Toan Commune in Tra Linh District in Cao Bang Province.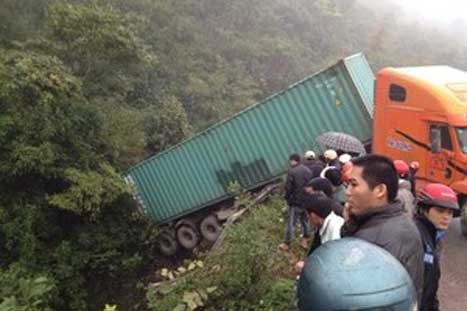 The scene of the accident (Photo: Baomoi)
Eyewitnesses said before the deadly accident, a truck numbered BKS 29C-129 suddenly veered off the road and plunged into an abyss. As usually happens, the accident quickly drew a number of curious bystanders. Some of them tried to help the victims while many stood on the road to see the rescue operations.
On seeing the crowd, a driver of a big container truck heading towards the province made a sudden sharp turn and lost control. This caused the container to overturn on the crowd, crushing many and pushing others down into the abyss.
At least five people were killed and many injured, according to our correspondent who reported the incident yesterday evening.
Among the five dead was one pregnant woman. Eight motorbikes were also seen under the truck.
Twelve other people were injured in the accident, two of them are now in critical condition and two have had their legs amputated.
Local police are investigating the cause of the accident.