Five children from two impoverished rural families in the southern province of Dong Nai drowned on afternoon of May 12 while they were collecting cashew nuts, according to police sources.
The children were between seven to fifteen years of age from two impoverished families in Dong Nai Province. The only surviving victim, a 4-year-old girl named Nguyen Thi Quynh Nhu recalled that on the morning of May 12, one boy suddenly fell into the canal while collecting cashew nuts.
The other four tried to rescue him, but in vain, as all four also drowned along with the boy, in water which was two metres in depth, as none of them knew how to swim.
This incident has raised an alarm for the protection of children. Injuries from accidents among children have become a public health concern and a leading cause of child fatalities in Vietnam. Therefore, preventing children from being injured in accidents is an urgent task to protect child health and reduce the heavy burden of disabilities in families and society.
SGGP reporters went to Xuan Bac Commune in Xuan Loc District to find out the truth. Le Thi Hang, headmaster of Dinh Tien Hoang primary school said that the five victims were among the best pupils. Their death had caused shock, regret and grave tragedy in the school.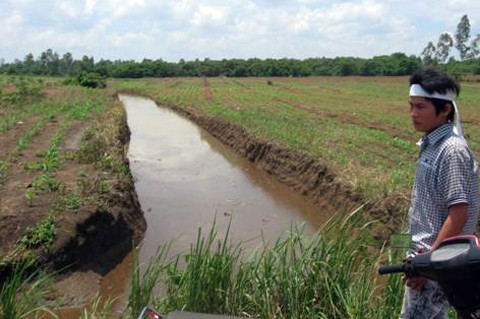 The canal, where five children in the southern province of Dong Nai drowned (Photo: VNEpress)
Dinh Van Hau, Party committee secretary of Xuan Bac Commune told reporters that on hearing the bad news, the authorities mobilised police and volunteers to fish out the bodies of the victims.
The authorities also sent representatives to visit, condole and support the families with VND10 million each as well as free coffins.
So far, the victims' relatives have received VND200 million from groups and individuals. The authorities also considered the legal responsibility of Minh, the owner of the land, who dug up the canal without permission from the People's Committee.
Many children have drowned when the school year ends and children go on holidays at the beginning of summer.
Accidental injuries to children leave serious consequences both physically and spiritually. Many children injured in accidents suffer severe deformities and find it hard to reintegrate into the community, becoming a heavy burden for their families and society.
According to the Ministry of Labour, Invalids and Social Affairs (MoLISA), there have been an increasing number of accidents involving children. In 2007 alone, more than 7,890 Vietnamese children under 19 were killed in accidents. The main causes of death were drowning, traffic accidents, burns, choking and animal bites, with drowning being most common, especially during the monsoon and flood season.
Injuries from accidents are more likely to occur in rural areas than in urban areas and poverty is also a contributory factor.
One of the reasons for the growing number of child injuries from accidents is due to the lack of timely information and proper measures to prevent accidents among children.
In addition, local funds for such communications are limited and local authorities do not give a full report on accidents. There is also a shortage of collaborators as each commune currently has only one person to monitor the situation.
A report from the Child Care and Protection Department, under MoLISA, said it's necessary to have closer coordination between governmental agencies, organisations, families and schools in educating, training and increasing people's awareness of child protection.
It's important to change the attitude of local authorities towards accidental injuries among children. Accidental Injuries are not only the leading cause of death among children but they also lead to numerous disabilities and long-term psychological wounds.
Preventing child injuries from accidents is both the responsibility of and a token of affection from families and society for the future of the country so that children can live, study and play in safe houses, schools and communities.