In a tragic accident on October 3, two cruise boats collided in Ha Long Bay in the northern coastal province of Quang Ninh, killing five tourists from Taiwan (China), according to Dang Huy Hau, deputy chairman of the People's Committee in the province.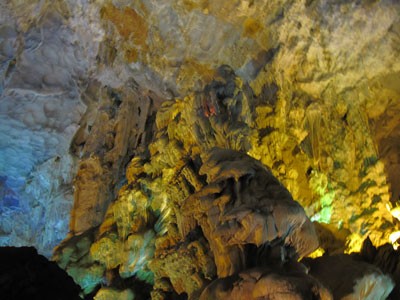 A cave in Ha Long Bay, a recently recognized new world natural wonder (Photo: U. Phuong)
At 3pm on October 3, a passenger boat with 18 tourists from Taiwan (China) was returning from the Sung Sot Cave when it rammed onto a Dong Phong 2 tourist boat.
The passenger boat capsized and all the holidaymakers fell into the sea.
Rescue crews rushed to save the tourists, but were able to save only 13 people while five others, four women and one child, died from drowning.
The five dead victims were Huang Shujin Chi, 9; Huang Feng Chi, 53; Kung Fang Ju, 35; Li Hui Chen, 36 and Chen Yhi Chiu, 69.
The survivors were taken to Cai Lan Hospital, while the bodies of the dead victims were transferred to the General Hospital in Bai Chay Ward, for completion of necessary procedures.