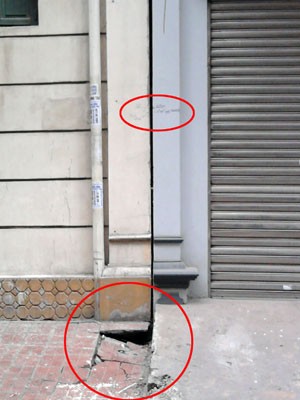 The five-storey house (L) showing cracks. (Photo:Vietnamnet)
Hundreds of people living near M3-M4 building in alley 91 on Nguyen Chi Thanh Street in Hanoi rushed outdoors in sheer fright, after hearing that a five-storey house was in danger of collapse on April 5.
According to residents in the locality, this five-storey house has shown signs of collapsing ever since the building construction began a long time ago. Some adjacent houses to the building have also developed cracks in the walls while the building was under constructed.
Around 3 pm on the same day, relevant authorities asked the house owner to have the building vacated immediately for fear of mishap and asked people in the neighbourhood to leave the danger area.
The Dong Da District People's Committee has also contacted the Hanoi Department of Construction to resolve this problem urgently.