The Ministry of Foreign Affairs held a flag hoisting ceremony to mark the 45th anniversary of the Association of Southeast Asian Nations (ASEAN) and 17 years since the country joined the group (July 28) in Hanoi on August 8.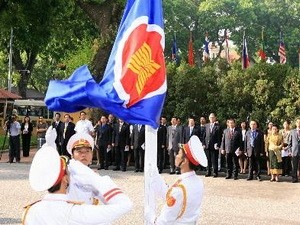 (Photo: VNA)
Minister Pham Binh Minh and ambassadors of other ASEAN countries in Vietnam attended the ceremony.
Minister Minh stressed that Vietnam would make all efforts to contribute towards promoting peace, stability and development in the region.
Similar ceremonies were also held in other ASEAN member countries and at the ASEAN Secretariat in Jakarta, Indonesia.
Surin Pitsuwan, Secretary-General of ASEAN, said that the event aims to affirm ASEAN's success and achievements, and strengthen solidarity and determination to build a strong ASEAN Community by 2015.