A huge fire completely gutted Hai Duong Trade Center in the nothern province of Hai Duong early on September 15, destroying 530 households running businesses in the center with an estimated loss of VND400 billion (US$19 million), but with no reports of human casualties.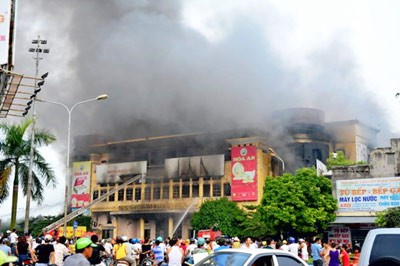 The scene of the fire (Photo: SGGP)
The fire broke out in a clothing stall on the second floor of the Trade Center at 3am and rapidly spread to other stalls on the floor that was filled with highly inflammable cloth materials.
After guards discovered the flames, they tried to put out the fire with a fire extinguisher and also called Hai Duong fire department, but in only 30 minutes the flames had become uncontrollable.
The fire brigade deployed tens of trucks and hundreds of firefighters to bring the fire under control.
In addition, firefighters from Pha Lai Thermal Power Plant, Vicem Cement Company and Hai Duong Petroleum Company also rushed to the scene.
Colonel Nguyen Duc Hien, Deputy Chief of Police in Hai Duong Province, said the fire was put out at 9am but smoke still engulfed the inside of the building and as a result, firefighters could not enter. Till 12 AM, the fire broke out again. It took two hours to extinguish the flame totally.
Hundreds of business people gathered outside watching their commodities go up in flames and their business turning into ashes.
The People's Committee of Hai Duong Province gave each booth owner VND10 million (US$474) and the children of the booth owners will be exempt from tuition fees in high school for the next two academic years.
Children studying in universities or colleges will receive VND3 million (US$142). Moreover, each businessperson will receive support of VND3 million from the authority in Hai Duong City. Besides, Hai Duong People's Committee decided to build a temporary market in front of the center.
The cause of the fire is still under investigation.