The sudden occurrence of northeasterly winds resulted in a flash hailstorm across the northern province of Lao Cai early morning of March 27, caused widespread devastation in many districts including Simacai, Muong Khuong and Bac Ha.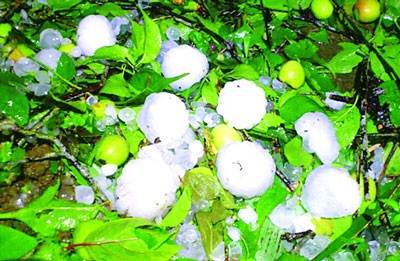 Hailstones the size of areca nuts hit Lao Cai Province on March 27 (Photo: SGGP)
According to local residents, hailstones the size of areca nuts or small bowls lashed the area for around 30 minutes.
Hailstones broke tile roofs of thousands of houses and destroyed hundreds of hectares of rice and vegetable crops. Eighteen people were seriously injured and 30 others were slightly wounded.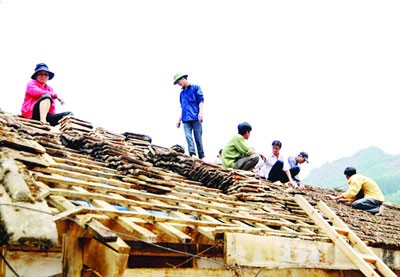 Residents repair their roofs after the hailstorm
The worst hit district was Muong Khuong with 13 out of 16 communes being affected. About 7,000 houses were damaged or left roofless, with 23 people hurt.
Luu Minh Hai, director of the Hydro Meteorological Center in Lao Cai Province, said this was the most severe hailstorm to cause so much damage in Lao Cai Province.
Soon after the hailstorm, Doan Van Huong, permanent deputy chairman of the People's Committee in Lao Cai Province, visited Muong Khuong District to condole with affected residents, and instructed relevant units to help residents rebuild damaged structures.