Heavy rainfall in Nam Luc Commune of Bac Ha District in Lao Cai Province triggered a sudden flashflood, leaving 13 people dead or missing and injuring one, early on Friday.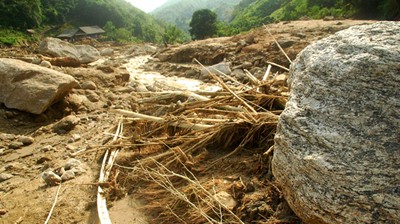 Flashflood leaves 13 people dead or missing in Lao Cai Province on August 31 (Photo: Tuoi Tre)
According to the Steering Committee for Flood and Storm Prevention, among the victims were two new-born babies. The sudden flashflood also swept away twelve houses.
Soon after the accident, Nguyen Huu Van, provincial Party Committee Secretary, visited the site to monitor search and rescue operations.
The provincial departments and Bac Ha District mobilized more than 200 people to tackle rescue works and help residents to repair the damage caused in the aftermath of the flashflood.
Floodwaters over Nam Luc Spring have receded and rain has also abated, but rescue workers are still finding it difficult to search for the missing persons because of the inaccessible terrain where even mechanical equipment cannot reach.
The People's Committee of Lao Cai Province has assisted each family with a dead relative with VND3 million (US$114) and those whose houses were swept-away with VND2 million each.
Northern weather to remain cool and wet during the National Day holidays

According to the National Hydro Meteorological Forecasting Center, the weather during the National Day holidays will remain wet, and in the north will be cold, due to a weak cold front set to slam in the area.
From September 1, northern and north central provinces will see showers and thunderstorms over wider areas. Temperatures will fall and the weather will become cooler, ending the unusual scorching conditions that have prevailed over the last few days.