Heavy torrential rainfall triggered flashfloods in Bac Me District in the northern province of Ha Giang over the last two days, cutting off communes and several roads, and damaging homes as well as farm crops.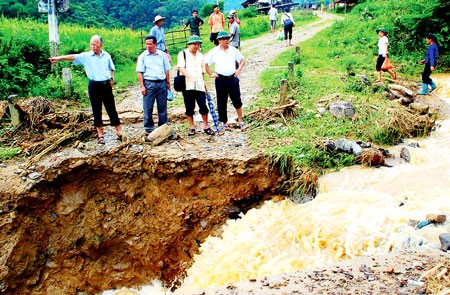 Flashfloods have cut off traffic in the northern mountainous region of Vietnam (SGGP file photo)
The Steering Board on Flood and Storm Prevention has instructed relevant authorities to begin repair work and resume traffic on a number of roads at the earliest.
On Sunday, traffic on Highway 34 and some roads leading from communes to the center of Bac Me District had already resumed.
Only Giap Trung Commune was still completely marooned by floodwaters and a landslide, in which fallen debris blocked nine kilometers of road in the commune.
One person in the commune is still reported missing while six of those injured were recovering.
 
According to the Hydro Meteorological Forecasting Center in Ha Giang Province, flood levels on the Gam River are still high at 17.8 meters till Sunday morning.
Rising floodwaters from the Gam River have either swept away or inundated several houses.
The People's Committee of Bac Me District has temporarily placed on hold all meetings, in order to focus on flood repair work.