We came back to Cat Tien district – a remote new economic district of Lam Dong province- which was a flood center of the upper reaches of Dong Nai and Da Nhim rivers. The old desolation and dullness there disappeared. The inhabitants' life is now thriving.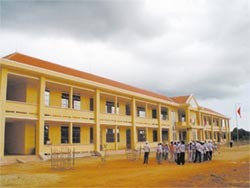 Quang Trung high school has just been built. (Photo: SGGP)
Duc Pho's changes

"Two animals and three trees", an economic model in agriculture is changing basically lives of Duc Pho inhabitants. Formerly, Duc Pho is an area specializing in pepper cultivation, but after several consecutive years of flooding, almost all pepper trees died out and together with the falling prices of pepper, the inhabitants began to plant grasses and raise cows instead.

With the Government's investment through the province's Agricultural Expansion Encouraging Center, the number of cows of the province has increased threefold to 1,820, fifty per cent of which are Sind cross-bred cows. Raising according to the farm scale model of above 10 cows is taking form. Households can make a profit of tens of millions of VND per year.

In areas where were flooded in the third crop, grass has been planted to feed cows since 2003. The areas for grass planting in the whole commune is 30 ha.

Duc Pho's party official Mai Bao Xuyen said "The commune has 70 ha of grassland, among of which there are 40 ha of natural grassland. According to a planning, the area of planted grass will continue to increase until 2010.
This shows a good change in the farmers' awareness who used to work in the way of extensive farming, depending on nature. Sixty households have still raised fish on 34 ha, and they can make a better profit than growing rice therefore, the rate of poor families decreased to 22% and the numbers of wealthy families increased obviously".

n Cat Tien, besides Duc Pho, Tien Hoang, Phu My, Phuoc Cat 1, Phuoc Cat 2, Quang Ngai and Dong Nai are converting into the economic model of 2 animals (cow and fish) and 3 trees (paddy, fruit, grass or paddy, mulberry, grass).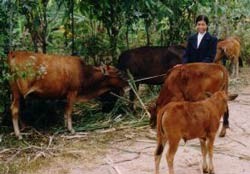 Inhabitants are provided with cows in the project of poverty alleviation.(Photo: SGGP)

Elements impact on the changes

Two objective elements which affect the development of the flood centre are firstly, the Government's investment in constructing the hydroelectric power plants Dai Ninh, Dong Nai 3, Dong Nai 4, to help minimize floods, and secondly, the irrigational systems.
The Government has invested VND 46.3 billion to construct the water reservoir Dac Lo to water 960 ha of trees. The province also has supported to develop small irrigational works, therefore the watered areas increased at an average of 23.5% per year during 2001-2005. Eighty percent of planted tree areas were irrigated in the whole province during the Winter – Spring crop.
The third element that has helped change in inhabitants' lives in the flooded area is the human resource management. The Province Party Committee Secretary, Nguyen Xuan Tung, said "In order to consolidate the Duc Pho's Party Committee, an agricultural and forestry engineer, who had been a leader of the Agricultural Chamber, was appointed as the commune's vice chairman. Therefore, the Party Committee's management is better, inhabitants' living conditions are enhanced, and many households escape poverty."
Through the experience of Duc Pho, the province continues to employ more newly graduated agricultural and forestry engineers to work at communes to concentrate on economic development, creating a change of quality in the personnel management.