The quick surge of floodwaters together with heavy rains has caused a lot of landslides in the Mekong Delta. Thousands of households, residing along Tien and Hau rivers, have been fearful as the swollen rivers are ready to swallow their properties while local authorities have struggled with difficulties in evacuation work.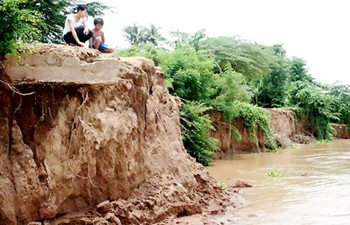 On the photo is the place where a primary school falls into the river in Vinh Truong Commune, An Phu District, An Giang Province (Photo: SGGP)
In Dong Thap Province, the landfall has frequently occurred in island communes like Thuong Phuoc 1, Long Thuan, and Long Khanh A in Hong Ngu District.
The worst case recently took place in Thuong Phuoc 1, where the floodwaters eroded two to three meters farther inland with over 4,000 meters of soil dropping down to the river.
Many sections of asphalt-paved roads in Long Thuan Commune were swept away, forcing hundreds of families to urgently evacuate.
In An Giang Province, dozens of landslides have been present in Tan Chau and An Phu districts. People have daily faced with the issue in the later district's Vinh Truong Commune, an island located in the middle of Hau River.
Local residents said that hundreds of meters of riverbank, stretching 50 meters to the mainland, have fallen into the river, sweeping away a primary school, recently built with hundreds of millions of dong.
Tu Thi Bi, 80, said that she had to move her houses up to nearly ten times in the past two years as the riverbank erosion has day after day extended.
Vinh Truong Commune residents have blamed sand dredgers for the worse landslide in recent years.
A local inhabitant named Phan Thuy Trang said that she don't understand why the An Phu District authorities have licensed businesses to exploit sand while the land has daily fallen into the river.
The district has permitted sand exploitation aiming to dredge the river, Le Thanh Hung, chief of the district Department of Agriculture and Rural Development said in response to people's opinions. The sand dredging has no relationship to the landslide, he said.
Resettlement difficulties
Thousands of households have been resettled since the central Government approved a project to build resettlement areas for Mekong Delta residents from the flooding and landslide areas in 2001.
However, about 2,000 of households in Dong Thap Province alone now still live in prone landslide areas.
The province has planned to build 43 more resettled areas, with a total capital of VND2.4 trillion (US$103 million). However, the construction has been sluggish due to a shortage of capital.
Similarly, the building progress of new residential areas has been slow in An Giang Province, where 11,262 households are living in flooding and landslide areas.