Heavy rains continued rushing down over wide areas in the northern region and spread to the north central region on August 2 while the number of dead and missing people has reached 30 so far.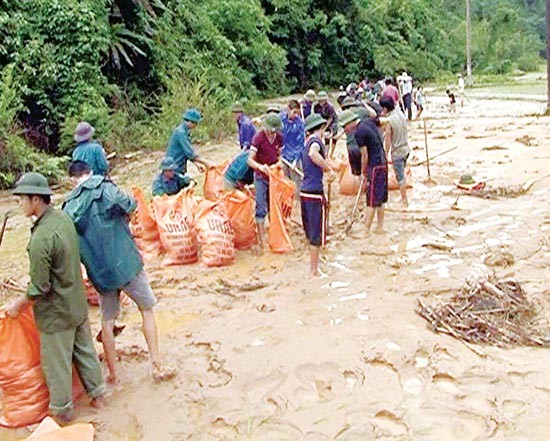 Residents repair a damaged road in Bac Kan province (Photo: SGGP)
According to the Central Steering Committee for Natural Disaster Prevention and Control, torrential rains have damaged six reservoirs and 64 irrigation works, swept away and collapsed many houses and caused many roofless in Dien Bien, Tuyen Quang and Son La provinces.
Fast sweeping currents of floodwaters have completely destroyed 3,140 hectares of rice, vegetables and seafood farming area and killed 11,587 livestock in Dien Bien province alone.
The long lasting downpour has raised flood levels on Da, Thai Binh, Thuong, Cau, Luc Nam and Ky Cung rivers, exceeding the alarm level 1 and it is estimated to be hit the alarm level 2 today.
Torrential rains have returned to the flood stricken Quang Ninh province on Sunday. The province Party Committee Secretary Nguyen Van Doc has instructed local authorities to quickly evacuate residents together with their stuff to safer places.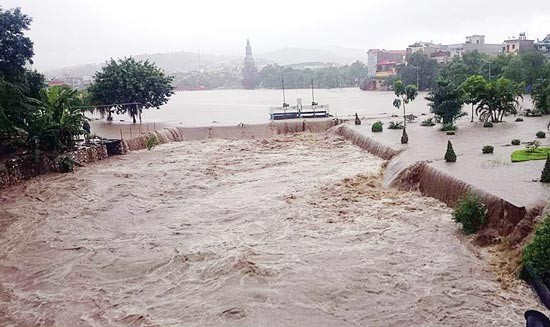 Torrential rains returned to Uong Bi city, Quang Ninh province on August 2 (Photo: SGGP)
About 500 houses in Uong Bi city of the province were submerged under 0.4-0.5 meters of floodwaters. The city leaders have mobilized 5,000 military and police soldiers and officers together with other forces to attend in rescue operation.

The Minister of Agriculture and Rural Development, who is head of the central steering committee, arrived in Quang Ninh to inspect fortification of mine waste dam 790 at Mong Duong Coal Company, susceptible to the prolonging flood.
Deputy Director of the Vietnam National Coal and Mineral Industries Group Nguyen Ngoc Co said that the dam was safe now.
Mr. Hoang Duc Cuong, director of the National Hydro Meteorological Forecasting Center, said that heavy rains continued pelting the northern region and spread to the north central region yesterday.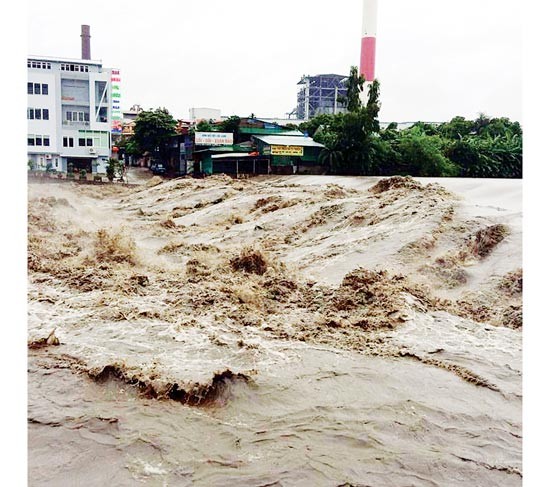 Flooding ravages Uong Bi city on August 2 (Photo: SGGP)
Many places in Lang Son, Tuyen Quang, Lai Chau and Son La provinces saw the rainfall up to 160-250mm.
The low pressure trough is forecast to weaken to abate rain and flooding conditions by August 4.
Tien and Hau Rivers in the Mekong Delta might see a flooding in the next ten days because the upper reaches of the Mekong River in Lao, Cambodia and China have experienced heavy rainfall, said Mr. Cuong.
The Rescue Department under the Ministry of National Defense reported that captain of a missing fishing boat had been found dead after six day of search operations. The boat with six crew aboard went missing on July 27 while it was moving towards Co To Island from Bach Long Vi Island. Rescuers are seeking the rest five missing fishermen.

Related article:
Fresh downpours submerge parts of northern region
Vietnamese Navy to take 1,500 tourists from island separated by storm
Clean-up efforts ongoing in flood ravaged Quang Ninh province
30 dead, missing in Quang Ninh downpour
Three killed in Quang Ninh 40 year record downpour