Swollen with rainwater, Mekong Delta channels in the provinces of An Giang and Dong Thap, rose 1-2 cm above the first-stage warning level and came close to the second-stage level in the next week, weather forecasters said.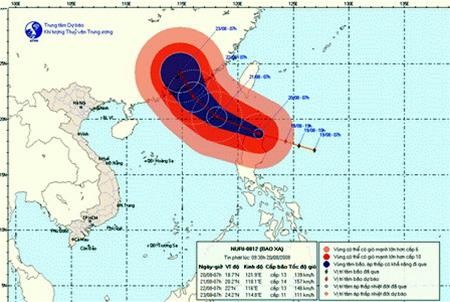 The map of the direction of typhoon Nuri on Tuesday(Photo:Central Hydro-Meteorological Center )
The two provinces are implementing anti-flood measures, shoring up embankments to protect more than 100,000 hectares of spring-winter crop, and opening more nurseries for children left homeless in the flood season.
Meanwhile typhoon Nuri was located near 17.6 degrees north latitude and 125.5 degrees east longitude, or approximately 380km east-northeast of Manila last night, the Central Hydro-Meteorological Center reported.
The storm generated winds of up to 134-149 km/h near the eye and gusts beyond force 13. The meteorologists said Nuri would head west-northwest at 20 km/h in next 24 hours. On Wednesday, there were 20 cyclones of force 9-12 in the northeastern part of East Sea. There storm also generated rough waters in the sea.
Ho Chi Minh City directed district authorities to take proactive measures to deal with the approaching storm. District administrators must pay attention to landslide-prone areas and carry out timely evacuation. Districts must have plans to provide financial support for poor households to repair the houses in the rainy season.