The heaviest flood in the history in the northern coastal province of Quang Ninh which is the country's largest coal reserve area might cause power shortage because many mines had been damaged and unable to resume operation after flooding, said director of Green Innovation and Development Center Nguy Thi Khanh.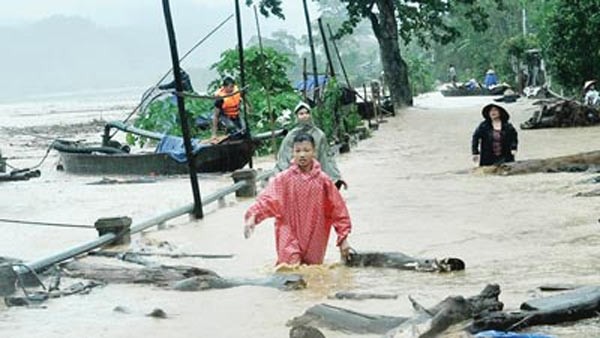 Floodwaters ravage Quang Ninh province in a recent days-long downpour (Photo: SGGP)
Total losses are estimated to reach VND1 trillion (US$46 million) to the coal industry.
Storages at some thermal power plants are only enough for them to operate in a short time, she added.
Thermal electricity now accounts for 20 percent of power supply source in Vietnam. It is forecast to increase by 50 percent in the next 15 years, when the country will have to import coal for electricity production.
Scientists have proposed to use more abundant substitute energy sources to lessen dependence on coal.
Coal mining and use have worsened climate change. Thermal power generation holds 37 percent of the global carbonic emission and 72 percent of greenhouse gas volume in the electricity industry.
Vietnam has 19 under operation thermal power plants, two thirds of them use material source from mines in Quang Ninh province.
Another 57 projects are expected to start construction in the upcoming time. Of these, Vietnam Electricity has nine projects, PetrolVietnam and Vietnam National Coal and Mineral Industries Group have six each.
Private and foreign firms will invest in four plants, 14 will be constructed under BOT (Build-Operate-Transfer) term and 18 projects have yet to have investors.
In related news, the Governor of the State Bank of Vietnam yesterday sent a document instructing commercial banks to assist residents in flood hit provinces since late July to early August to repair consequences.
They were asked to review and extend debt payment deadline, exempt or reduce interest rate for residents and businesses suffering flood damage in Quang Ninh, Dien Bien, Lang Son and Lai Chau.
The banks would have to provide flood stricken customers with new loans to overcome difficulties and resume production.
Basing on their financial ability, the banks should give timely social welfare assistances to help residents back to their normal lives.