When water in rivers begins to rise, the people who live in the Mekong Delta no longer fear the floods, but relish the opportunity brought by the rain to make some extra cash.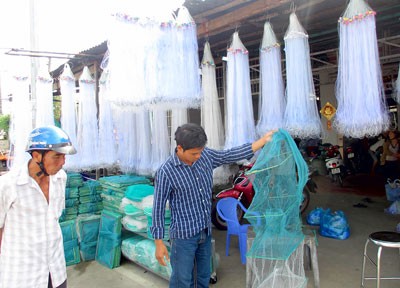 Thom Rom bamboo fishing trap making village is busy all day (Photo: SGGP)
By mid August, when floodwaters begin to overflow into paddy fields, there is promise of a lucrative income for the local people and both authorities and the people wait for the rising water levels.
Dong Thap and An Giang Provinces spend a lot on infrastructure and careful planning for this time as thousands of people have to be evacuated from landslide-prone areas and housed in safe locations.
Handicraft villages in the Mekong Delta are seen bustling with activities during this time. Thom Rom villagers, who are skilled at making bamboo fishing traps, enhance production with many more people making these traps at their houses in Thot Not District of Can Tho City.
Nguyen My Loan, My Loan factory owner,  says all laborers in the factory stay up late every night making traps but still cannot meet demand. Each laborer nets VND100,000-2000,000 (US$4.74-9.48) a day.
This is peak season not only for home demand but also for export. Elsewhere in Chau Phu District of An Giang Province, people in other villages make bamboo fish and crab traps round-the-clock not only for local residents but also for export to Cambodia, who catch field crabs in their country to sell to Vietnam.
Tran Van Nam, a local laborer, said each day he makes 150 bamboo crab traps yet cannot meet demand. Each trap is sold for VND35,000, a profit of VND15,000 on each one.
The Nam Quang boatyard in Phung Hiep in Hau Giang is bustling with activity as also the fishing trap making village in An Phu District and the fish hook making village in Long Xuyen Town in An Giang.
Even villages making traps for field mice in Thanh Binh, Hong Ngu, Tan Hong Districts in Dong Thap are busy too. Villagers in these handicraft villages cannot keep up with the huge number of orders.
Along with the delight that flooding brings, people in the region remain worried for their safety as landslides wreck their houses and crops are often swept away.
Le Thanh Tam, 54, from Tan Binh Commune in Thanh Binh District of Dong Thap Province, suffered much damage when the rising Tien River waters swallowed his house two years ago and his family members were forced to live in a temporary hut.