Floods and torrential rains have left eight people dead or missing in the central coastal provinces of Quang Nam , Quang Ngai and Binh Dinh over the past days.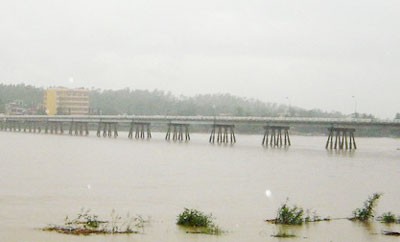 Tra Khuc River in Quang Ngai Province exceeds the second-stage warning level by 0.4m (Photo:TTO)
The natural calamity has also damaged over 5,000 homes, submerged almost 75,000 ha of rice fields, and sunk five fishing ships.
Rescue and relief operations in the flood-hit provinces, including Khanh Hoa province where one of the world's most beautiful bays- Nha Trang- is located, have been going on. They focused on house fixing, distribution of relief supplies, disinfection of flooded areas and strengthening of drift dykes and damaged road sections.
Local administrations said they were preparing funds to buy rice seeds in an effort to nurse rice saplings soon after the floods abate, making up the losses to the winter-spring fields.
The Central Steering Board for Flood and Storm Control has submitted proposals to the Prime Minister for urgent relief aid to flood-stricken provinces, asking for the supply of rice seeds.