Floodwaters in the Mekong River are expected to rise by at least four meters by the end of August in An Giang province in the Mekong Delta, claimed Vo Thanh, director of the Province Hydro Meteorological Forecasting Center.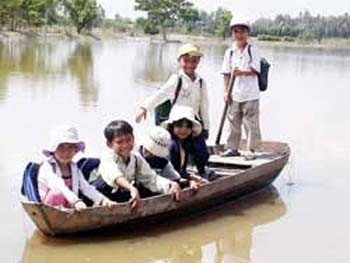 School children commuting by boat during the flood season in the Mekong Delta
Water levels in the two tributaries of the Mekong River, the Tien River along Tan Chau town and the Hau River in Chau Doc District reached 3.75 meters and 3 meters respectively, only a few days back.
River water levels are rising rapidly at 4-6cm every day and are feared to touch a dangerous level of four meters by August 31.
The Flood and Storm Prevention Center in Dong Thap Province says that thousands of hectares of rice crops stand threatened by floodwaters, which might overflow over the low dykes in Hong Ngu, Tan Hong, Chau Thanh, Lap Lo and Lai Vung districts.
The province has ordered district authorities to reinforce and fortify the dykes, install pumps to prevent rice fields from flooding and be prepared to help farmers harvest their rice crops if and when necessary.