As flood waters began to ebb in the capital city and surrounding areas, citizens are being warned about the dangers of water borne diseases that could assume epidemic proportions.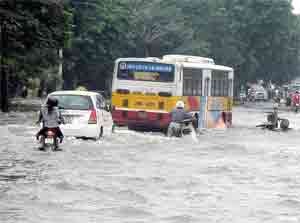 An downtown area of Hanoi  in the evening of October 2.
The Central Committee for Flood Control and Prevention has asked Ha Nam authorities to stop pumping water into the Nhue River to prevent the collapse of dyke system on the river that could endanger thousands of households living between Ha Dong Town in Hanoi and Phu Ly Town in Ha Nam.

On Sunday, Dr. Nguyen Huy Nga of the Ministry of Health warned that a number of dangerous diseases including diarrhea, cholera, petechial fever, acute conjunctivitis and dermatological disease have spread in Hanoi and in some provinces including Ha Nam, Vinh Phuc and Hoa Binh due to water pollution.

People in flood-hit areas should eat well-cooked foods, boiled water or bottled water only and use Cloramine to clean underwater reservoirs and wells as soon as the floodwaters go down, he said.

It is the immediate task of the health sector, said Dr. Le Anh Tuan, deputy director of the Ha Noi Department of Health, to clean up the environment and take preventive measures against the diseases, so that they do not spread further.

Tuan added that hospitals and medical centers in throughout Hanoi now have between 700 and 1,000 kilograms of Cloramine B in stock, which will be used for environmental hygiene purposes after the water goes down.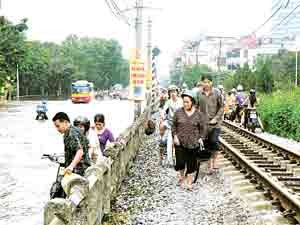 Le Duan Street is submerged in floodwaters
As of yesterday evening, three inspection teams from the Hanoi Department of Health had visited hospitals and medical centers in flood-stricken areas to directly guide staff on receiving and treating patients suffering from health problems caused by the flooding.

On his trip to oversee the flood control work in My Duc District yesterday evening, Pham Quang Nghi, Hanoi City Party Secretary, requested municipal authorities to urgently give food aid to the people in need and ensure environmental hygiene towards preventing the spread of diseases. He also encouraged local farmers to resume production after the waters recede.

Also yesterday, the chairman of Hanoi People's Committee Nguyen The Thao chaired a meeting with relevant authorities to direct the task of repairing the damage and dealing with the losses caused by the worst flooding the city had experienced in more than 20 years.

The Department of Construction was instructed to strengthen the dyke system along the Hong River, and the Department of Agricultural and Rural Development to pump floodwaters into the Hong River.

The Department of Communications and Transportation was urged to rapidly restore communications to areas isolated by floods and facilitate transportation of necessities to the victims at the earliest.

The Hanoi Electricity Company was told to prioritize stable supply of power to pumping stations to accelerate drainage operations.

While the waters began receding on Sunday, many downtown areas and suburbs of Hanoi were still under deep waters because of inadequate drainage systems.

Thus far, 49 people in the northern and north-central regions have been reported dead or missing in the historic floods. Heavy flooding also submerged or swept way 54,106 houses, damaged 182,000 hectares of rice and vegetables, and 9,600 hectares of aquaculture farms.

As many as 457 bridges and sewers, 130 irrigation systems and 48,600 cubic meters of dykes, canals and embankments have suffered heavy damage.

It is expected that the floodwaters will completely recede in four days to come.