A government leader has requested authorities in the Red River Delta and northern central provinces to mobilize all of the resources at their disposal in tackling the damage caused by the recent torrential rains and subsequent flooding, which has cost those localities almost VND8 trillion.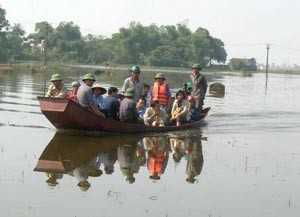 Flooding in a village on the outskirts of Hanoi last week
At an on-line conference with the leaders of those provinces on Nov. 14, Deputy Prime Minister Nguyen Sinh Hung ordered them to immediately engage in necessary relief activities to prevent those affected by the floods from falling into poverty.
He affirmed that the State Bank of Vietnam and the Finance Ministry will consider a mechanism to reschedule farmers' loans and to continue providing them with additional loans to enable them to resume farming.
The Government leader reminded those localities of the need to disinfect the environment to ensure there are no outbreaks of disease, and to promptly make repairs to schools, hospitals and roads that were damaged by floods, so that they are able to resume normal services for local residents.
"The irrigation system in the Red River Delta needs to be restructured to cope on a long-term scale as it has shown signs of working beyond its capacity during the record torrential rains," Deputy PM Hung said.
During the meeting, the Ministry of Agriculture and Rural Development suggested that the Prime Minister provide farmers with 45 tons of vegetable seeds and 275 tons of rice, to be taken from the national reserves, in addition to a subsidy rate of VND1 million per hectare damaged by floods, to support their farming activities.
According to the Ministry of Agriculture and Rural Development, the recent floods caused 89 people dead and 5 missing. Of the figure, Hanoi capital city and central Nghe An provinces lost 22 people, central Ha Tinh province lost 15, and mid-land Vinh Phuc and Thai Nguyen provinces, each had 8 dead.
A total of 210,000 ha of vegetable crops, 30,000 ha of paddy fields, 10,000 ha of fruit trees, and 40,000 ha of fish farms were lost in the disaster, which also swept away 200,000 livestock and cattle and caused serious damage to roads, power stations, health clinics and schools in the Red River Delta and northern central provinces.