Heavy rainfall in the aftermath of storm 'Gaemi' triggered flooding in the central region and central highlands in the last few days, killing two people.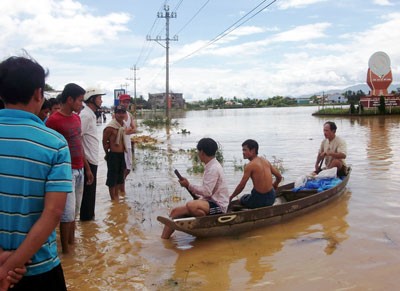 Several areas in the central province of Quang Nam have been marooned by floodwaters (Photo: SGGP)
Phan Thanh Hung, head of the Steering Committee for Flood and Storm Prevention in Thua Thien-Hue Province said that water levels have risen in both Huong and Bo Rivers.
Highest levels were recorded on O Lau River in Phong Dien District, which had inundated some road sections on Highway 49, cutting off all traffic.
The committee is continuing to monitor coastal areas and is on alert to evacuate thousands of households from low lying and landslide prone areas.
The People's Committee of Thua Thien-Hue Province has instructed hydropower plants to notify residents 30 minutes before they release excess floodwaters. From 9am on Sunday, A Luoi District has allowed A Luoi Hydropower Plant to discharge floodwaters at 200 cubic meters per second.
By Sunday, rivers in Quang Tri Province like O Lau and Thac Ma had swelled, posing a threat of landslides and flashfloods in the lowlands.
Long lasting heavy rain has caused landslides and isolated some routes in the border areas along Laos. Van Kieu ethnic minority people were totally cut off by floodwaters in Le Thuy District on Sunday.
A man was reported to have been swept away after he crossed Nuoc La River in Nam Tra My District of Quang Nam Province on Saturday.
Heavy rains have lashed Quang Ngai Province over the last few days and mountainous districts are preparing for flashfloods. Military forces have helped people in landslide prone areas in Tra Bong District to set up tents for temporary accommodation.
The central highland province of Kon Tum has also experienced heavy rainfall in several areas. Rivers and springs are swelling. Some traffic and irrigation works are damaged due to landslides.
Dak Lak Province also experienced torrential rain where some localities have been flooded. An 18-year-old girl was swept away and found dead in Ea H'leo District.


Floods cause huge losses in Phu Yen Province

The Steering Committee for Flood and Storm Prevention in the central province of Phu Yen said that flooding in the aftermath of storm 'Gaemi', that hit the province on Sunday, runs upto VND6 billion (US$286,000).

The mountainous district of Dong Xuan suffered the most with tens of hectares of rice, which are in ear, to be totally devastated along with 25 hectares of sugar cane and cassava.

The Suoi Trau sewer line along the La Hai-Dong Hoi traffic route was swept away, cutting off vehicular traffic. Severe landslides also occurred along other roads while a number of canals have been filled up with mud.

Floodwaters also caused landslides along the Ky Lo riverbanks and near the pillars of La Hai Bridge.

In Tuy An District, torrential rain burst 500m of Suoi Re embankment and 17 out of 25 hectares of vegetable fields in An Hoa Commune were completely destroyed.

The People's Committee in Phu Yen Province has instructed related departments to work with local authorities to mobilize residents to repair damaged roads and implement measures to prevent diseases from breaking-out after the flooding.