Prime Minister Nguyen Tan Dung has agreed to extend a programme to build flood-proof resident areas in the Mekong Delta region through 2020, housing over 8,400 additional households.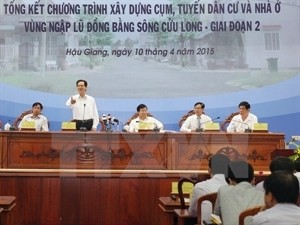 Prime Minister Nguyen Tan Dung speaks at the conference (Source: VNA)
He urged the Ministry of Construction to work with other ministries and localities to review programme beneficiaries while continuing lending and extending payments for people living in poverty.
Regional localities should consider the programme their key political task, he stated during a conference to review the programme's second phase on April 10 in the Mekong Delta province of Hau Giang.
It is also crucial to listen to local feedback during the implementation of the programme to ensure social consensus as well as mobilising all possible resources for the programme, he urged.
Highlighting the special role and position of 13 Mekong Delta localities as a major economic region of the country, PM Nguyen Tan Dung noted that the region is prone to devastating natural disasters—especially floods, adding that the Mekong Delta is forecast to be one of the hardest hit areas by climate change.
Launched in 2011, the flood-proof residential areas building programme has produced a number of results.
In the first phase from 2011-2008, as many as 804 smaller projects to construct flood-resilient areas and dyke systems were implemented with an investment of VND 5.77 trillion ( US$ 288 million), protecting 146,000 households in flood-prone areas of eight regional localities.
During the second phase, which is scheduled to finish in 2015, the programme aims to provide flood-proof houses for 56,000 more local households. So far, as much as 97 percent of the workload has been completed with as many as 27,185 of the planned 35,595 houses constructed.
As of the end of 2014, total capital disbursement under the programme mounted to nearly VND 2.86 trillion (US$ 132.3 million) sourced from the central budget, the Bank for the Development of Vietnam and the Vietnam Bank for Social Policies.
According to Minister of Construction Trinh Dinh Dung, thanks to the programme, human and material damage by storms and floods in the region was equal to less than 15 percent of the previous year's figure.
The programme ensured safety for over 200,000 local households or more than 1 million people, most of who are impoverished, he noted.
During the conference, locality representatives proposed that new-style area building and other poverty reduction project investments be timed to ensure synchronic infrastructure in the flood-proof resident areas in order to enhance local living conditions comprehensively.