Downpours over the last few days have inundated four adjacent provinces of Ninh Thuan, Khanh Hoa, Phu Yen and Binh Dinh in the southern central region, leaving six dead and three missing.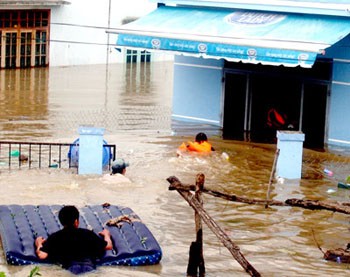 Several homes are inundated in floodwaters in Ninh Thuan Province on November 1 (Photo: SGGP)
On Monday, it continued raining cats and dogs with the common precipitation of 300-450mm in Ninh Thuan Province.
Heavy rains combined with floods from the upper reaches and reservoirs of hydropower plants and irrigation works submerged the entire province.
The under construction Phuoc Trung irrigation work containing over 2.3 million cubic meters of water bursted in Bac Ai District.
Hydropower plants like Don Duong, Song Sat, Song Trau and Tan Giang were forced to release floodwaters, putting the Dinh River dyke in high danger of breach in Phan Rang-Thap Cham town. Flood levels on Cai and Lu rivers topped level three.
The province has recorded two people missing, 56 houses collapsed and 1.137 others inundated. Thuan Bac, Ninh Son, Ninh Hai and Ninh Phuoc districts were submerged under one to four meters of water.
In addition, the track section running through Cong Hai Commune, Thuan Bac District was severely damaged.
In Khanh Hoa, four people have been reported dead, one injured and another missing. The rainfall reached 542mm in Nha Trang City on Monday.
A cold front, which has made northern weather cold, was spreading towards the south on early Tuesday.

The National Hydro Meteorological Forecasting Center said that temperatures in the northern mountainous provinces would drop to just 5-7 degrees Celsius.

In the central region, provinces from Quang Binh to Binh Thuan would experience medium to heavy rains, which might cause a new flood, the center said.

The province's 500 hectares of crops were endamaged while the seafood farming industry suffered VND15 billion (US$750,000) in financial losses.
Two high tension electric poles were toppled, roads were eroded and many reservoirs overflew isolating about 20,000 residents in Khanh Son District.
Some track sections were also swamped in southern Nha Trang City while in the northern city, the track through Ca Mountain Pass continued landslide.
Meanwhile, Phu Yen and Binh Dinh provinces reported one dead each. Several seafood farming areas and thousands of hectares of crops were inundated.
One dead in Central Highlands
In the central highland province of Lam Dong the same day, a man was swept away while he was wading across the Da Quyn River in Duc Trong District. His body was then found at the river's lower section.
Heavy rains over the last few days had inundated two bridges and some roads' stretches under two meters of water, said Lam Dong Province's flood and storm prevention steering committee.
Traffic to Da Quyn and Ta Nang communes was blocked by floodwaters, several homes and crops were waterlogged, and many schools closed.