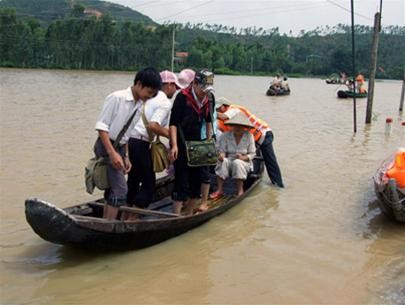 High school students resort to boats to go to school in Binh Dinh (Photo: Tuoi Tre)
Water levels in southern Viet Nam's Mekong River Delta will rise the highest this year during next week, a national weather bureau predicted. Meanwhile, floods in the central region have stopped but not after dealing heavy losses.
The Central Center for Hydro-Meteorological Forecasts said levels at the Mekong riverhead and the Dong Thap Muoi and Long Xuyen regions will continue to rise. At Tan Chau, it can reach an alarming 4.2m and Chau Doc 3.6m.
Meanwhile, the floods which have been ravaging through the central region in the past days killing at least 5 people have stopped.
In Thua Thien Hue province, water has all drained up. Still, 56 percent of houses in Phu Thanh commune are being heavily inundated. Losses are estimated at VND300 million.
In Binh Dinh province, two houses collapsed while over 3,600ha of fruit crops and 364 shrimp ponds have been submerged and most shrimps washed away. Over 10km of dikes in Tuy Phuoc district were punctured.
Local government puts initial property damage at VND13.3 billion. Over 2,000 students in Tuy Phuoc cannot go to their schools which are still being flooded.